Calendrier des sorties jeux vidéo mai 2023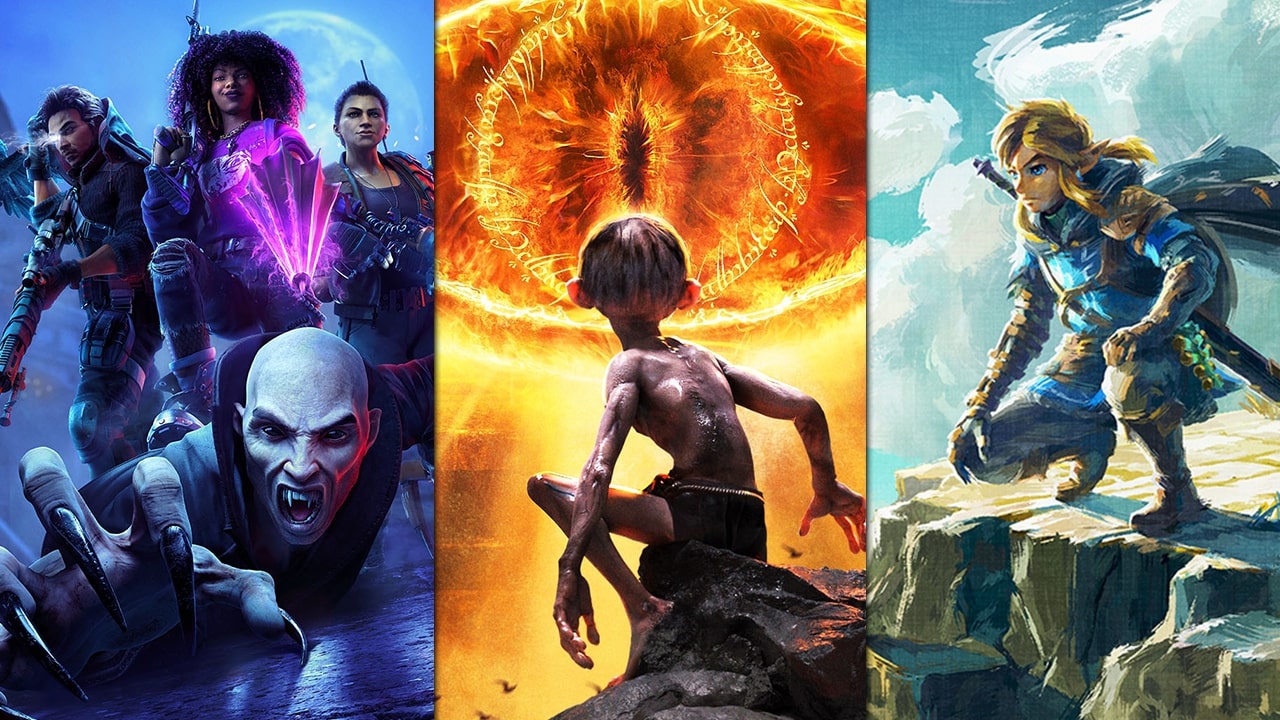 Le mois d'avril est terminé et il a su nous proposer pas mal de jeux, notamment le dernier Star Wars ou encore l'inespéré retour de Dead Island 2. Mais les prochaines semaines vont également être bien riches avec les arrivées de gros titres attendus. On n'oubli pas non plus l'AG French Direct, une conférence avec de nombreuses annonces, qui aura lieu à la mi-mai. Voici notre calendrier des sorties jeux vidéo pour mai 2023, avec tout ce qui arrive sur PC, PlayStation, Xbox et Switch, ainsi qu'un comparateur pour acheter et précommander au meilleur prix.
Les sorties à retenir en mai 2023
Avant de vous lister jeu par jeu ce qui arrivera dans les prochains jours, on vous propose une sélection des titres à ne pas manquer en vidéo. On revient logiquement sur la future sortie de Zelda: Tears of the Kingdom, indéniablement le jeu Switch le plus attendu, mais aussi l'arrivée de Redfall sur les consoles Xbox. N'oublions pas le jeu Gollum, qui arrivera enfin après toutes ces années d'attente, ou encore LEGO 2K Drive et The Outlast Trials.
Les jeux de mai 2023
Voici l'ensemble des jeux à venir tout au long du mois, au moment de la publication de cet article. Vous pouvez aussi découvrir toutes les sorties jeux vidéo de mai 2023 sur notre page dédiée, actualisée régulièrement.
2 mai
3 mai
4 mai
Ravenlok (PC, Xbox Series, Xbox One)
KAKU: Ancient Seal (PC Early access)
Jected: Rivals (PC Early Access)
5 mai
Hogwarts Legacy (PS4, Xbox One)
Death of Treat (PC, PS5, Xbox Series)
Demon Skin (PS4, PS5, Xbox One, Xbox Series, Switch)
8 mai
9 mai
Ys IX: Monstrum Nox (PS5)
Dokapon Kingdom: Connect (Switch)
Pan'orama (PC)
11 mai
Fuga: Melodies of Steel 2 (PC, PS4, PS5, Xbox One, Xbox Series, Switch)
TT Isle of Man: Ride of the Edge 3 (PC, PS5, PS4, Xbox Series, Xbox One, Switch)
Another Fisherman's Tale (SteamVR, Meta, PSVR2)
Space Engineers (PS5, PS4)
12 mai
15 mai
Last Labyrinth (Xbox One, Xbox Series)
16 mai
17 mai
18 mai
The Outlast Trials (PC early access)
Warlander (PS5, Xbox Series)
I Am Future: Cozy Apocalypse Survival (PC)
19 mai
LEGO 2K Drive (PC, PS5, PS4, Xbox One, Xbox Series, Switch)
Tin Hearts (PS5, PS4, Xbox Series, Xbox One)
21 mai
23 mai
After Us (PC, PS5, Xbox Series)
Miasma Chronicles (PC, PS5, Xbox Series)
Amnesia The Bunker (PC, PS4, Xbox Series, Xbox One)
Warhammer 40.000: Boltgun (PC, PS5, PS4, Xbox Series, Xbox One, Switch)
Farming Simulator 23 (Switch)
Star Trek: Resurgence (PC, PS5, PS4, Xbox Series, Xbox One)
Puzzle Bobble Everybubble! (Switch)
Guardians of Gaia (PC)
ghostpia (Switch)
24 mai
Hello Neighbor: Search and Rescue (PSVR2)
25 mai
The Lord of the Rings: Gollum (PC, PS5, PS4, Xbox Series, Xbox One)
Railway Empire 2 (PC, PS5, PS4, Xbox Series, Xbox One)
Cassette Beasts (Xbox One, Xbox Series, Switch)
26 mai
Monster Menu: The Scavenger's Cookbook (PS4, PS5, Switch)
Fitness Circuit (Switch)
30 mai
Shame Legacy (PC, PS5, PS4, Xbox Series, Xbox One)
System Shock Remake (PC)
The Caligula Effect: Overdose (PS5)
Everdream Valley (PC, PS5, PS4, Switch)
Company of Heroes 3 (PS5, Xbox Series)
Acheter au meilleur prix les jeux de mai (physique)